Kitchen Cabinet Installation
Pink Hammer Homes Services is your one stop resource for all your handyman needs.
Installing new kitchen or bathroom cabinets can have a dramatic impact on the beauty and functionality of your home.  At Pink Hammer Home, our skilled carpenters can help with your kitchen cabinet installation needs or with installing cabinets in any room of your home.  From hanging single cabinets to full kitchen remodels, our cabinet installers will help you transform your kitchen or bathroom or laundry room.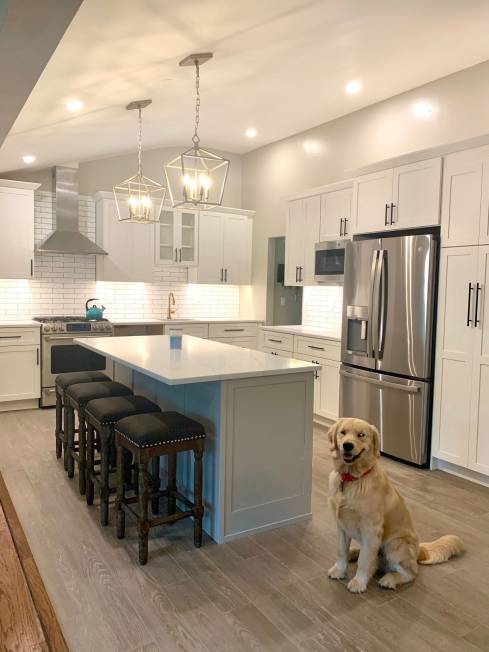 Cabinet Installation Services
Our exceptional cabinet installers have on average 25 years of carpentry and home improvement experience.  Here are some of the cabinet installation services they can help with:
Full Kitchen Remodels
Installation of bathroom cabinets
Hanging cabinets in laundry room
Installing cabinet moldings such as crown molding
Replacing cabinets
Building custom cabinets
In addition, when you work with Pink Hammer Home on a renovation project, you have access to our project manager who will assist you with:
Kitchen Layout services
Selection and purchase of decorative materials, including tile, fixtures, stone and more
Selection and purchase of kitchen cabinets
Managing the project schedule to include outside resource such as stone vendor, plumber, electricians, etc.
Did You Know?
Pink Hammer Home Services can also help with the purchase of your kitchen cabinets.  We offer great pricing on a line of semi-custom cabinets, made in the USA and offered directly through us.  We also have a relationship with a local cabinet showroom, with options from fully custom to value cabinets.
Sometimes, installing new cabinets is not an option or not in the budget.  Not to worry, at Pink Hammer we have skilled carpenters who can also handle many cabinet repairs, including:
Modifying cabinets to fit an appliance
Adjusting cabinet doors
Repairing cabinet doors and drawers
Replacing hinges and glides
Installing cabinet hardware or accessories
Ready to book your handyman repair or maintenance project with Pink Hammer Home Services?