Flooring Repairs and Installation
Pink Hammer Homes Services is your one stop resource for all your handyman needs.
One of the first things you see when you walk into your home is the flooring.  It can be a significant statement, adding to the ambiance of your home, adding value, comfort and enjoyment.  There are so many great choices in flooring in products, colors, and styles.  Older floors that are in need of repairs, have the opposite effect.  They can make your home look dated and not well maintained.  At Pink Hammer Home, we can help with installing new floors and repairing your existing ones.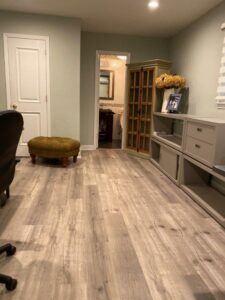 Flooring Installation Services
Our skilled craftsmen have experience with most types of flooring installations, including:
Sub-floors
Wood flooring
Luxury vinyl tile (LVT)
Laminate
Tile floors (ceramic, porcelain, and natural stone) 
Installing baseboard moldings
When it comes to repairing your floors, you need an experienced flooring professional.  At Pink Hammer Home, we regularly perform flooring repairs, including:
Repairing squeaky floors
Patching sub-floors
Replacing cracked floor tiles
Re-grouting floors 
Fixing water damaged floors
Patching hardwood flooring
*Note, we do NOT refinish hardwood flooring
What your neighbors have said about Pink Hammer's carpentry services…
"Pink Hammer is the most reliable, trustworthy and apt company I've ever dealt with. Their work is amazing."
– Jennifer, Morristown
Ready to book your handyman repair or maintenance project with Pink Hammer Home Services?