Pink Hammer Homes Services is your one stop resource for all your handyman needs.
Regular power washing can help you maintain your home's curb appeal and it helps prevent future problems by eliminating mold, algae, insects and more. While some consider this a do it yourself job, an inexperienced power washer can do more damage than good. Our professional team are experienced power washers and we only use environmentally friendly products that are safe for plants and animals.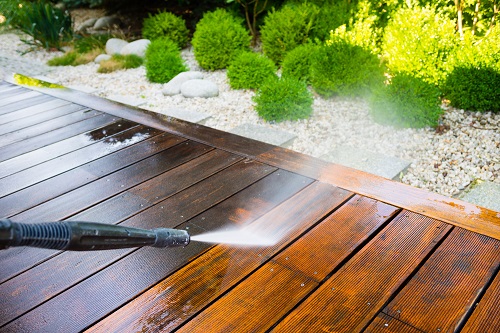 Over the seasons, dirt, grime, pollen, and environmental dust get embedded in your outside surfaces. Power washing (also called pressure washing) gives a nice clean face lift for your siding, deck, fencing, concrete, driveway, steps, or outdoor furniture. In addition, power washing can help minimize allergies by washing away debris from plants and trees and washing away mold and mildew.
You will be amazed at the transformation. Often our customers don't realize just how grimy their exterior surfaces have become. Once they have been power washed, your house will have a whole new level of curb
appeal!
What your neighbors have said about Pink Hammer's power washing services…
"The power washing job made my patio look brand new. I'm so happy that all the moss is gone and I can enjoy it now."
– Brooke, Rockaway
Ready to book your handyman repair or maintenance project with Pink Hammer Home Services?