Pink Hammer Homes Services is your one stop resource for all your handyman needs.
Expert deck repair services for your home.  If you are looking to update or repair your worn-out deck or porch, you've come to the right place.  When it comes to decks, we do it all.  From minor deck repairs to deck refinishing, we will make your old deck like new again.
Unlike some other home repair issues, deck repairs are critical to address right away. Most small deck repairs can become big, expensive projects very quickly if not taken care of.  In fact, regular deck maintenance is a great way to minimize deck repair costs later.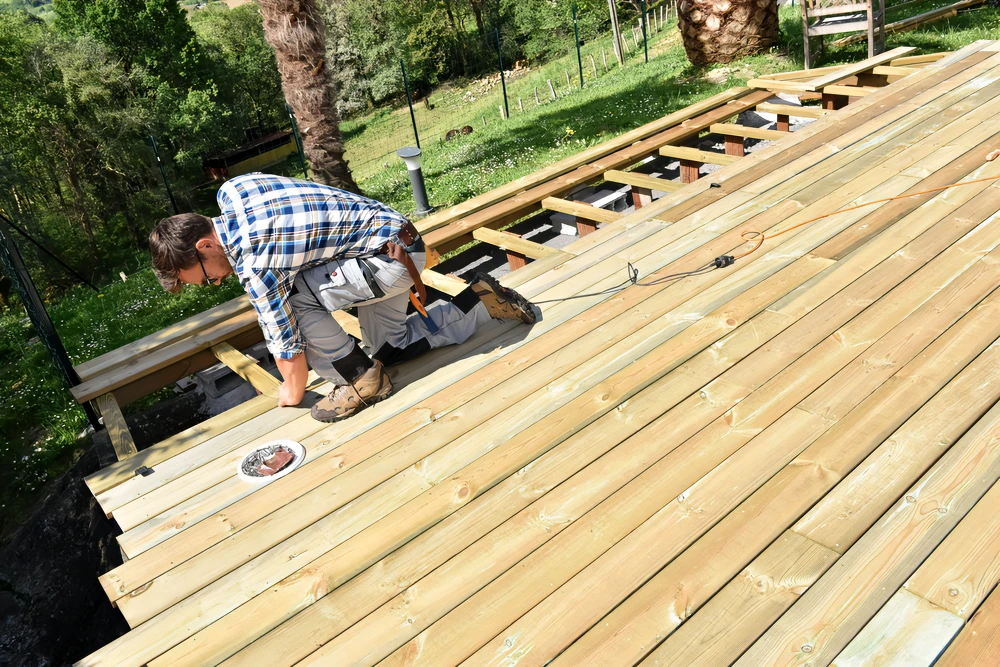 We can help with all of your deck repairs, including:
Tightening loose railings
Securing or replacing deck boards
Replacing rotted wood
Repairing damaged, missing or loose screws, nails and fasteners
Installing or repairing deck or porch railings
Re-building deck or porch stairs
Installing lattice under deck or porch
Securing deck framing
Replacing deck railings with vinyl or composite railings
Replacing deck boards with composite decking (such as Trex or TimberTech/Azek)
Deck repair assessment
Deck Repairs: How to prioritize
Deck repairs fall into several categories that can help you prioritize your deck repair to-do list, if you are on a limited budget.
The most critical deck repair issues would be safety related deck repairs such as loose railings or deck boards, splintered wood, and nails sticking out.  Additionally, deck structural or framing issues can certainly be a safety issue and if your deck is old or hasn't ever been inspected, it is a good idea to check for structural deck repair issues.
The next most important deck repair issues would be any kind of rotted wood on your deck. Whether you have rotted deck boards, rotted deck posts or wood rot around your deck's framing, it will only get worse and should be addressed as soon as possible.
Finally, cleaning then sealing, staining or painting your deck surface is important to take care of.  Most of the issues in the first categories can be prevented by keeping your deck clean and sealed.  Annual power washing can do wonders to keep mold and debris from causing damage to your deck.  Sealing, staining or painting your deck protects it from wood rot.
What your neighbors have said about Pink Hammer's handyman services…
"Bill and your crew did an excellent job on our porch. The work was done in a timely manner (within promised timeframe), materials were cleaned up and the finished product is exactly what we wanted. Thanks!"
– Anthony, Rockaway
Ready to book your handyman repair or maintenance project with Pink Hammer Home Services?