February sure is turning out to be a tough month – the longest short month ever! You can make February fun by finally going forward with that kitchen or bathroom remodeling you've wanted for years. But you should look before you leap. (Okay, 2021 isn't a Leap Year.) Check in with Pink Hammer Home Services early in the process to make sure you end up with that dream kitchen or bathroom you've always wanted.
Often people start planning for a kitchen or bathroom remodeling job by speaking with a big box store, consulting with friends or an interior designer, or even simply looking through magazines. But the most important ingredient in your kitchen or bath remodeling recipe is the team that will be doing the actual work. At Pink Hammer we offer planning and design services for kitchen and bath renovations that will turn your vision into reality. In addition, by working with us early in the planning stage, you benefit from not only our insight but also from our dealer-direct price discounts and custom-feature cabinet options (didn't you always want a dedicated roll-out spice rack?).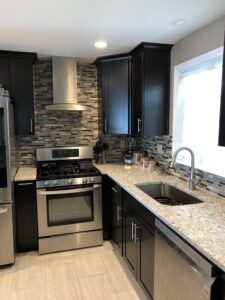 Our planning, design and layout services include detailed 3D design renderings. Then our skilled handyman craftsmen shop for all the materials and do all the work with a quick turnaround time for the least possible disruption to your daily life and family routines. We also manage any other contractors, such as plumbers or electricians, who may be needed.
Kitchens
Your kitchen is the heart of your home. It is where you and your family – and, inevitably, your guests – gather. At Pink Hammer, we are experts in kitchen remodeling and we know that your kitchen must match both your tastes and your family's lifestyle. Our kitchen remodeling services cover everything from minor updates to full renovations.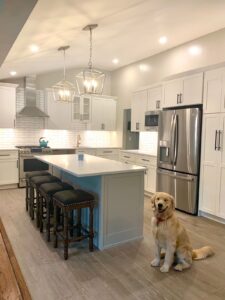 Have you always dreamed of an island? Do your tile floor and backsplash need updating? (Our tile work is second to none.) Do you prefer granite or quartz countertops? Wood flooring or tiling? Traditional or modern new kitchen cabinets? Perhaps your kitchen is oddly shaped and requires custom design and carpentry.
We will help you through the planning phase so the dream you have in your head takes shape. You'll enjoy better features and more options than you can get at those big box stores. Then our handyman craftsmen will turn your dream into a reality. The first step is to call us for an estimate so we can get you started on the right foot with pricing, timelines and a project plan.
Just looking for cabinets? We are a kitchen cabinet dealer, both selling and installing or just selling.
Bathrooms
At Pink Hammer, our bathroom remodeling services cover all your needs, from simply re-caulking your shower to renovating the entire room – or even creating a new one! Perhaps you've been living with your bathroom since you moved into your home or you remodeled 20 years ago and now your tastes have changed. Maybe you've always wanted a master bathroom or want the next holiday season to be the last your extended family and guests have to go upstairs to use the bathroom. That storage space under the steps might just transform into the ideal powder room.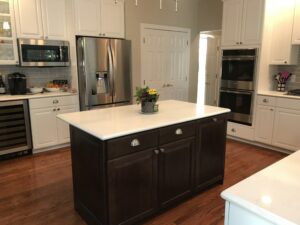 Whether you need only minor updates, such as a new vanity or installation of grab bars for an older family member, or you're looking for a full bathroom remodeling, our home repair handyman craftsmen will bring your vision to life with a minimum of disruption to your home life.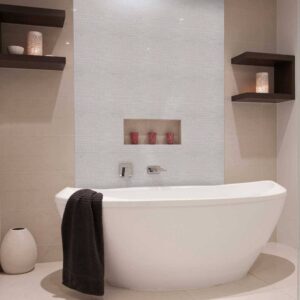 Financial Benefits
While creating the kitchen or bathroom space you've always dreamed of should be your primary focus when planning any home repair renovations, it doesn't hurt knowing that your investment pays dividends down the road. According to the website Remodeling, the return on home repair investments upon the sale of a Mid-Atlantic home is:
Minor kitchen renovation – 79.7%
Major kitchen renovation – 56.3%
Bathroom renovation – 62.5%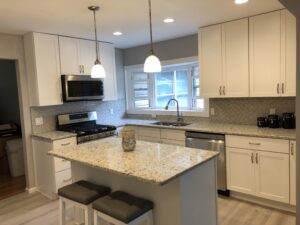 Make this the best February you've ever had! Call us today at 973-453-2465 to make an appointment for an estimate. We do both live and virtual consultations. Or contact us and we'll call you.