Happy Halloween! If the scariest part of Halloween this year is the condition of your kitchen, then this post is for you. Seriously though, many people are intimidated about taking on a kitchen remodeling project, but it really doesn't have to be so scary. And, if you do it right, you can even have some fun in the process. By taking the time to plan everything in advance, your project can go much more smoothly.
To help you do that, I'm going to walk through one of our recent kitchen remodeling projects from the first meeting with our client to putting the handles on the cabinets. Hopefully, this will give you more information to make the project less scary for you.
If you are ready to book your free Kitchen Remodel consultation, contact us here.
A Little Background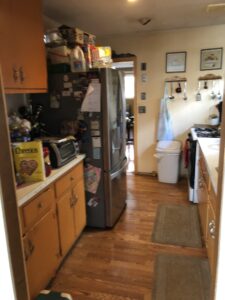 Our clients live in the White Meadow Lake section of Rockaway Township. If you know the area, you know that the houses in these areas were originally built as vacation homes (around the lake), but now most families live in these small homes year-round. The family had added on to the home, but the kitchen was original. The kitchen was small, tight, not terribly functional, and closed off from the other rooms. On either side of the kitchen is a living room and family room/dining room, but you could not even see into the kitchen from those rooms.
In talking with the homeowners, they were looking for open concept (everyone is, these days) with a clean design (which really means uncluttered, simple space). They wanted to incorporate a pantry of some sort (lots of food in their house with a teenage boy and girl), a dining area in the kitchen, and a kitchen island.
Now, let me give you a design tip: There is usually a LOT you can do with the space you have
Older homes were not designed for using the kitchen the way we use it today. By rearranging these antiquated designs, we can create a kitchen that appears bigger and is way more functional. In this case, the homeowners had an extra room behind the kitchen that they were willing to give up for a larger kitchen, so we were able to incorporate that into the design. Other times, we can change doorways or take just a little space from another area and create a way better kitchen design.
Now here's another tip: You won't get everything on your wish list so prioritize what is most important to your family
Some of the designs incorporated creating an eat-in area on one side of the kitchen, another created a massive pantry across the back of the kitchen. In the end, the homeowner decided to utilize the island for seating and get the oversized pantry in their kitchen. After all, they are feeding two teenagers.
The next step was picking out the materials which leads up to the next tip: Pick out, order and have everything on site before you start any construction. The process of selecting materials for a kitchen remodel can be one of the most daunting parts of the project. There are a LOT of things to pick and the selection of materials can get overwhelming. This is where Pink Hammer Home Services stands out.
Part of our process for kitchen remodel projects is to walk our customers through their selections and often even shop with them. We always start with the big items like cabinets, countertops and flooring. Once the largest things are ordered, there is some waiting time and that can be filled by selecting the smaller items like cabinet handles, plumbing, lighting and even paint colors. In the case of our Rockaway family, they utilized our offer of help and we had fun picking out cabinets, flooring, backsplash tile and countertops with them (and their teenage daughter, who was influential in several of the decisions).
Besides having peace of mind that all the items for your kitchen remodel project are picked out, doing so ensures that there are no delays in construction. Once your old kitchen is demolished, you are without a working kitchen sink, dishwasher and stove. This is where the real stress comes in, so the shorter the time is, the better.
Demo day finally arrived for this Rockaway family. Which brings me to another tip:
A good contractor will take steps to protect your home during a renovation, but you should take some responsibility here, too.
Before any renovation project in your home, you should clear the surrounding rooms of valuables or treasured items that you wanted protected; in addition, you should take the time to remove items from walls in surrounding rooms as well as smaller items that are easily broken or lost. Finally, you should clear and designate a good area for the contractor to work (often inside a garage). At Pink Hammer Home Services, we ALWAYS put down tarps, plastic off doorways and do our best to protect your items. However, when we are working, the walls may shake, the dust may spread, and nail pops may pop. On your end, tell your contractor what you are seeing or things that may be bothering you. Additionally, since we do have to use power tools, etc. we will need a place to set those up safely and where messes are acceptable (since many of the tools are inherently messy, like tile saws). Keep in mind that many power tools cannot be used outside in the rain or once temperatures drop below freezing.
As we moved on from demo, the next steps for this Rockaway kitchen involved the big stuff – moving walls, widening doorways, framing the kitchen pantry. Next step was to bring in sub-contractors for plumbing and electrical to rough-in for all the new fixtures. During this time, there is a lot of down time while waiting for each sub-contractor to complete their portions and getting inspections for each.
At Pink Hammer Home Services, when we do renovation projects, we do our very best to minimize the downtime and attempt to schedule portions of the project that can be done concurrently. In the case of this Rockaway family, we were able to install the floors on the same day the inspections happened, for example.
Once the initial inspections passed, we moved on to closing walls and getting to the pretty stuff- installing cabinets, painting, installing trim, then countertops, backsplash tile and finishing touches. As we get to the end of the project, we start creating our punch lists, which brings me to another tip:
Review the work AS it is being done and ask questions and tell your contractor about anything that bothers you.
It is a lot easier for a contractor to fix something during the work process, instead of waiting until the end. Sometimes you might feel like you are bothering your contractor by pointing this out or that they know about it because it is SO obvious to you. I'm here to tell you that even though I think we have the best craftsmen at Pink Hammer Home, we often miss something that you see. That is because our guys are hyper focused on what they are doing and don't always see things. Be part of your kitchen remodeling process. That will ensure that you get the result that you desire.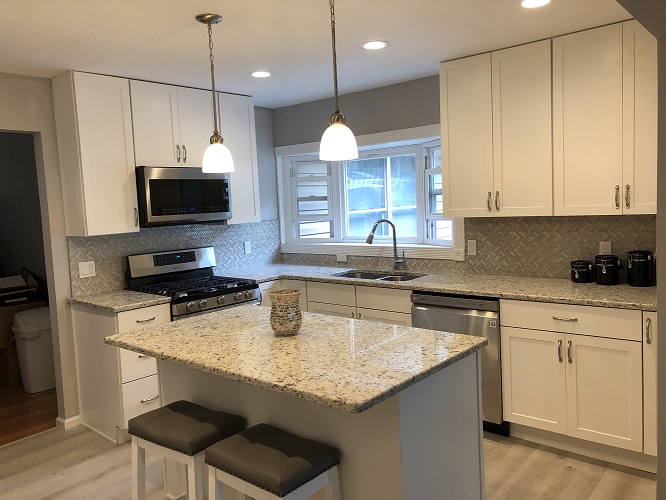 Here is the finished kitchen remodel for this Rockaway, NJ family. They couldn't have been happier and even stopped us at Shoprite a few weeks later to tell us how much they are loving their new kitchen. The total project took about 7 weeks of time from demo day to putting the finishing touches on the painting portion; it was probably closer to 6 weeks when they could use the kitchen. They had about a full week of down time where no work was being done due to waiting for inspectors, countertops and the like.
Check out photos of other kitchen remodels in the Morris County area here.
We hope this has made your kitchen remodel project planning a little less scary!
Let us offer you a free kitchen remodel consultation.