Warm weather is here – finally! The birds are back, your perennials are popping and your grass is growing lush and thick. With temperatures rising, you're itching to get outside and enjoy your deck. Is it ready? More than likely, not after this past winter.
Pink Hammer Home Services can help you get your deck all set for outdoor fun with our deck staining and painting services and our deck refinishing and restoration services. Proper deck maintenance and deck repair is essential to making sure your deck stays beautiful and lasts year after year. It was exposed to sun, snow, rain and pollutants all winter and is crying out for a little tender loving care.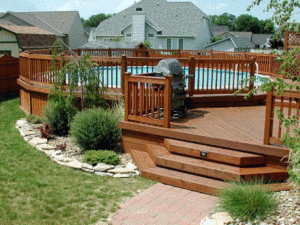 Our home repair handyman craftsmen are experienced in properly staining or painting decks, first moving furniture, grills and plants and using quality paints and stains to ensure your deck is properly sealed and is the final color you like. And we make sure the stain or paint goes on only your deck or porch, protecting your house and landscaping. We stain or paint deck surfaces, railings, posts and steps.
Likewise, deck refinishing and restoration is an excellent way to extend the life of your deck or porch. Our home repair handyman craftsmen will return your deck to its original beauty after a winter of sitting in the elements. Despite looking a little worse for wear right now, your deck is ready to bloom like your flowers.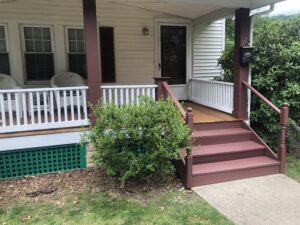 Our deck refinishing and restoration services include:
Power Washing – We will wash away winter grime with eco-friendly cleaners
Deck Repairs – From tightening loose railings to replacing rotted wood
Staining, painting and resealing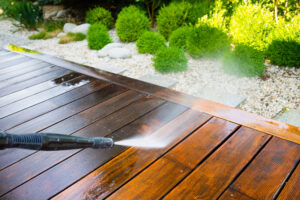 We will move all furniture, grills and plants, cover your bushes and other landscaping and protect the side of your house. We also can sand prior to refinishing, if necessary. In addition, we can refinish or restore wooden furniture, play sets and fences. We recommend refinishing your deck every two years to ensure you can enjoy it for years to come.
Thinking about building a new deck? We can do that for you but due to the pandemic and a related lag in the production of wood in the United States, wood prices have soared by more than 170 percent since the outbreak of Covid. That means it's much less expensive to allow our home repair handyman craftsmen to refinish and restore your existing deck. Don't have a deck and have your heart set on one after being stuck home all last summer? Our deck building services offer an array of design and construction options that will allow you to have the custom deck you always dreamed of.
The warm weather is finely here. Get ready to enjoy your deck by contacting us today for deck staining and painting or deck refinishing and restoration services. Then start marinating those kabobs!